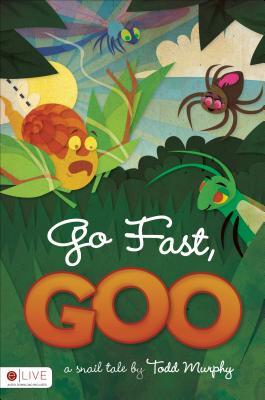 Title: Go Fast, Goo
Author: Todd Murphy
Illustrator: Rebecca Riffey
Publisher/Year: Tate Publishing/2012
Summary: Goo is a snail on a mission. Tired of taking life at a snail's pace, he enlists his friends to help him go faster and farther than he ever imagined. It's every snail's dream come true. Join Goo as he learns that while fast is fine, slow is the way to go.
Goo the snail longs to be something different from what he is. He wants to fly, jump, and swing like his friends Dart, Skippy, and Iris. He doesn't like being slow. He wants to be fast. His friends are happy to help him, but nothing works out and Goo is left feeling defeated. It's only when tragedy strikes and Goo saves the day that he finally realizes that what he perceived as a flaw is really his greatest strength.
I enjoyed this sweet story of friendship and self-acceptance. It's well-written and moves along at a nice pace, and it employs a level of repetition that kids will like. Children will especially love the cute, colorful insect characters with their expressive faces. Though the message of self-acceptance is clear, it's also subtle enough not to overpower a fun read-aloud story.
My favorite line from the book: And while going slow gives Goo time to stop, smell, and eat the roses, he has always dreamed of going faster and farther.