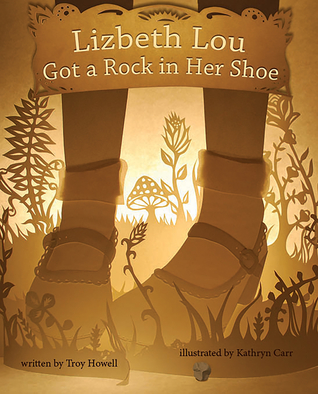 It is my pleasure to welcome Kathryn Carr to Frog on a Blog. Kathryn is the illustrator of Lizbeth Lou Got a Rock in Her Shoe, a beautiful picture book written by Troy Howell and published by Ripple Grove Press. I was so intrigued by her incredible cut-paper art, I had to learn more about her and how she does it!
Kathryn, did you know from an early age that you wanted to be an artist?
I knew I had a special connection with art from a very early age. I remember when I was about 4 my mother would lay out big sheets of paper on the kitchen floor so I could get messy and paint. I loved my art classes in school and knew that I wanted to be involved in the arts in some way.
How did you develop your unique and whimsical cut-paper style?
I began paper cutting in 2008. I had a desire to work with simplistic materials and to create a visual that was similar to block printing. I achieved the look I was striving for by sketching my ideas on the back of black paper and cutting away the positive or negative shapes using a knife blade.
It was like a whole new world opened up for me when I started with the art of paper cutting. I never really enjoyed drawing because I felt like I had to worry about perspective, shading, and lots of detail work. Now, when I draw imagery for my silhouettes I can make my buildings curve and sway and create fantastic scenes without spending time on the details or stressing about making everything just so. Over time my paper cutting skills improved and I just kept doing what I loved and an iconic style evolved.
How did Ripple Grove Press approach you about illustrating Troy Howell's Lizbeth Lou Got a Rock in Her Shoe?
A friend of mine encouraged me to become a member of the Society of Children's Book Writers and Illustrators group in my area. So I signed up and posted my art and information on their website. It was about two weeks later when I received an email from Rob at Ripple Grove Press expressing that he liked my silhouette style and wondered if I would be interested in illustrating a book.
How did you create the lovely glow we see behind the cut paper silhouettes in the book?
When I read the story I felt I needed to create a more dynamic illustration style then what my black and white silhouettes offered. I wanted a warm and inviting atmosphere and something that would engage the readers. With a lot of experimentation and trial and error I found a way to achieve that sense of depth and interest I was looking for. I began with cutting images from white paper and set them up in a diorama. Some lamps were positioned behind and below the art and then I took a photo of the whole scene. The sepia color is just what the camera registered from the lights I used.
What projects are you working on now?
I am getting a body of work together for a solo gallery show this spring at West Liberty College in WV.
Why do you believe picture books are important?
Picture books encourage imagination and create a special bond with the reader/viewer. The books from my childhood have had a profound impact on my art today.
Where can fans go to learn more about you and your art?
I have a website: www.gocarrgo.com
Do you have any advice for aspiring picture book illustrators?
My best advice is to hone in on your own style of art and always continue to learn about your craft.
Thank you, Kathryn!