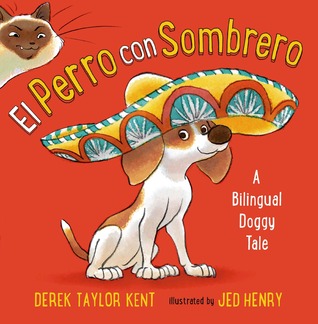 Title: El Perro con Sombrero: A Bilingual Doggy Tale
Author: Derek Taylor Kent
Illustrator: Jed Henry
Translator: Gabriela Revilla Lugo
Publisher/Year: Henry Holt/2015
Summary: Although Pepe achieves fame and fortune as a movie star dog, much to the chagrin of a jealous movie star cat, Pepe longs for a family.
——————————————————————————————
Pepe was a little stray dog living on the streets. No one paid any attention to him until the day a sombrero fell from a balcony and landed right on his head. Pepe looked good in the sombrero, so good, in fact, that a movie director who was passing by, stopped his shiny convertible and offered Pepe the chance to be a star. And Pepe did become a big movie star and made lots of money. But something was missing, something he'd longed for his whole life: a family to love him.
Anyone who knows me knows how much I love my dog. My husband and I adopted Java from our local animal shelter and we were told he was a stray. So a story like El Perro con Sombrero, about a sweet little dog who wants a family more than anything, tugs at my heart strings. But even though the first line tells us that Pepe is a very sad dog, the story moves quite quickly into his life as a movie star–a busy, action-filled life where he rides horses, sings, eats hot peppers, and tries to get his sombrero back from a jealous movie star cat. In the middle of the story, we are reminded that he's still sad, despite all his fame, because he still doesn't have a family. Toward the end, Pepe must make a choice between fame and family. And he totally makes the right choice, of course.
Final Thoughts: Great story with emphasis on family or love over fame and fortune. Excellent illustrations with a good balance between colorful images and white space. The story is bilingual English/Spanish, but can be enjoyed reading either and is a good choice for those learning Spanish or English.
————————————————————————————————
The Mystery of the Picture Book
By Derek Taylor Kent
Hello Frog on a Blog readers! My name is Derek Taylor Kent, AKA Derek the Ghost to fans of my middle-grade series Scary School.
Picture books are indeed one of the greatest mysteries to me, even as a published picture book author. I've written about two dozen of them, and after twenty years of trying, I finally got my first picture book deal a couple years ago.  It was for a bilingual "doggy tale" called El Perro Con Sombrero, which hit bookstores August 18, 2015.  It tells the story of a street dog named Pepe who chances upon a lucky sombrero that turns his life around.
There are many questions that aspiring picture book writers struggle to get a clear answer for. What sets apart picture books that get publishing deals versus ones that don't? If you've written a picture book (or several) that haven't been published, does it baffle you when you visit a store and see that the published titles are not discernably better than yours? I have to admit, that line between published and unpublished still baffles me, but at the end of this article, I will offer you a few tips that I think will increase your chances.  
To relate my personal story of navigating the picture book realm, we'll start when I was just fifteen years old. That's when my aspiration to become a children's author took hold.
I had always loved writing. At seven years old I was the weird kid in class who would read the dictionary during free reading time. My favorite words were the long obscure ones, which I liked to use in my stories mostly because I enjoyed the flabbergasted look on my teacher's face when she read them. (Flabbergast was one of those words.)
At fifteen years old I became re-obsessed with Dr. Seuss at a level far beyond when I was a child. Everyone knows his famous books like The Grinch and Green Eggs and Ham, but I fell in love with his lesser-known titles, which often had his most clever wordplay — If I Ran the Circus, The Sleep Book, On Beyond Zebra.
I decided I was going to try to write a book in the style of Dr. Seuss. For months I had a single verse going through my head that I felt was a good start for something:
I come from a land that's called Fizzle Magoopis
Where everyone's first name is Shoopis or Loopis.
Within these high hills dwell the Figgles and Toggs,
Each of whose surname is Bez, Ben, or Boggs.
I started writing stories based on that verse, which ended up becoming a book called The Wow Dome. Luckily I was in a creative writing class at the time with a very inspiring and supportive teacher named Mr. Cooper-Mead. He taught me that I needed to hone my rhythm and meter to perfection, just like Dr. Seuss did, and pushed me to re-read Seuss's books, starting with his first: And to Think that I Saw it on Mulberry Street. 
After months of practice, I finally figured out my meter, and eventually completed the book. The intention was for my mother to illustrate, who was a well-known artist for Disney, Warner Bros., and LucasFilm. The summer between high school and college, I had a booth at BEA to promote The Wow Dome and it got a ton of interest from publishers and agents who wanted to read it when it was completed.
Then, I went to college. Years go by. I've written three books in the series. My mom has finished only one illustration for the book, which I am pasting below. Besides that there were just a lot of sketches, but no finished product (not all her fault as she was going through a messy divorce).
After graduating college, I sent out my manuscript and the sample illustration to agents. To my exaltation, I received an offer from an agent based in Florida. But after six months, she was unable to sell The Wow Dome. 
Later, I would come to realize that despite having poured my heart and soul into it for over seven years, there were several crucial flaws with The Wow Dome. First, it was way too long for a picture book. I based it on the long Dr. Seuss book standards like The Lorax and The Grinch, but the market had changed since the 1970s, and now I was told that picture books should only be about 500 words. Mine were 1,500-2,000 words.
Another problem was that I was sending it out with my mom already attached as the illustrator. Unless you are a writer doing your own illustrations, the big publishers would prefer to choose the illustrator themselves, so I was already shooting myself in the foot.
Lastly, I was told that the book's Seussian style was a drawback because most picture books these days are written in prose. Rhyming books happened to be out of vogue.
While I believed The Wow Dome was a unique and certainly epic literary work, it appeared as though it simply wasn't viable in the marketplace.
During college, I had written another picture book for extra credit in an astronomy class I was taking. It was called Simon and the Solar System, based on my hilarious astronomy teacher Simon Balm.
I thought this picture book would have better chances because it was 100% educational, while still being wrapped in a humorous adventure story. It's about a young boy who can't sleep because he's nervous about the next day's astronomy test, but then a friendly alien named Neil Newton appears in a spaceship and takes him on a tour of the solar system to help him out.
While this story has a lot going for it, ultimately it met the same results and didn't get a deal. Again I was hearing that it was too long. I hadn't learned the lesson the first time and was still writing books that were 1,500 words. I didn't know how to make it shorter because the whole point was the science facts told in rhyme about each planet. Yep, I was rhyming again. I just couldn't resist. It was in my blood and what I felt I was best at!
However, all was not lost. I decided to self-publish and worked with a fantastic artist named Mary Gutfleisch, who hand-painted every page of illustrations. Mary has gone on to become one of the biggest artist stars on Youtube! You can check her out at her channel called MaryDoodles. Here's the cover she did for Simon:
Soon after self-publishing, it won the Global E-Book Award for best illustrations in a children's book!
Despite these early efforts, after ten years of trying to get my picture books published by a prestigious publisher, I hadn't had any real success and was beyond frustrated. That's when I picked up Harry Potter. 
Of course! I thought to myself. This is what I need to be doing! Books where I can let my imagination run wild and not be burdened by the need for illustrations.
At that I started writing my first novel. I won't go into all the details of this process (I've written about it on other blog posts), but suffice to say, I finally got my first big book deal for a middle-grade series called Scary School with HarperCollins. Book Four of the series was released this fall.
A couple years ago, I happened to be dating a Nicaraguan girl named Gabriela, who had a very energetic min-pin dog named Sabrina. In our joking around, I happened to come up with a book title called El Perro Con Sombrero.  This book became our running joke, but I was very apprehensive about braving those treacherous picture book waters again.
Until…
The girl and I broke up (amicably). Afterwards, I went out and got an admitted "break-up dog" named Zander.  Here's us:
As I raised him from puppy to dog, the El Perro Con Sombrero story was coming to life in my head. Zander was so hilarious and mischievous, I just had to record his antics.
I wrote the book with everything I learned in mind. It was about 500 words and in prose. I showed it to Gabriela and she was kind enough to write a Spanish translation so I could send it out immediately as a completed bilingual book. I had learned bilingual books were very popular during my school visits promoting Scary School.
My agent sent out the book with a proposal package and almost immediately we had offers from multiple publishers. After having about a dozen picture books rejected, I finally had a winner!
Here's me and Zander at our first co-signing:
So, in retrospect, what had happened? Had I finally figured out the mystery of how to write a publishable picture book? I'm not entirely sure, but I do know that the book was something very close to my heart, written with a lot of love, and on a practical level, it hit the right notes for what is working in the current picture book marketplace. In fact, I recently found out that Scholastic Book Fairs gave it a nationwide order, so it should be available at every Scholastic book fair starting this fall.
If you're still trying to get a picture book published, I know how difficult it can be. If it's something that's in your soul that you absolutely must do, then don't give up and keep trying until you've found your winner.
From my personal experience (not hard-set rules at all), here are some tips that I would offer to help your chances for a book deal:
Know the parameters for your target audience. Go to book stores and study what is the right length in pages/word count for the age-group you are targeting.
Don't hire your own illustrator if you are not doing your own illustrations. If you decide to self-publish, then it's fine.
Don't use rhyme. If you must use rhyme, make sure you are a master of rhythm and meter or you could come off as an amateur.
Find a unique angle to your book. El Perro Con Sombrero did well because it was a natural fit as a bilingual picture book. Forcing it with my other books wouldn't have worked. Your angle could also be your unique subject matter, your unique writing style, your humor, your imagination, etc. Know what makes your book special!
Create a great proposal package. There are many resources online about this, but at its heart, you want to convey why your story is a must-read, why you will be such a joy to work with, and why the marketplace desperately needs your book.
Good luck! And please feel free to have some fun perusing my websites: DerekTaylorKent.com and ScarySchool.com.